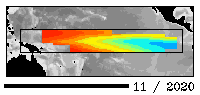 Above is an animation of recent sea surface temperatures (SST) in the ENSO monitoring area. Checking out the animation, we see that the La Nina is losing steam, going along the negative SOI numbers. Negative SOI numbers signify an El Nino.
So why are we still thinking a big snowstorm may happen?
The President's Day Snowstorm of 1979 (President's Day I)
The President's Day Storm of 1979 came during the flip from a La Nina to an El Nino. If that same situation happens with this winter, it is entirely possible that several snowstorm could hit the East US. A flip in the middle of winter is not something that goes by without notice. The entire atmosphere is in a turbulent phase, more than the polar vortex.
In conclusion, while short, we still believe a major snowstorm is possible, depending on, among many other variables, the ENSO conditions. Remember- patience is key; I see the recent Midwest snowstorm to be a very good sign that winter is getting in gear.