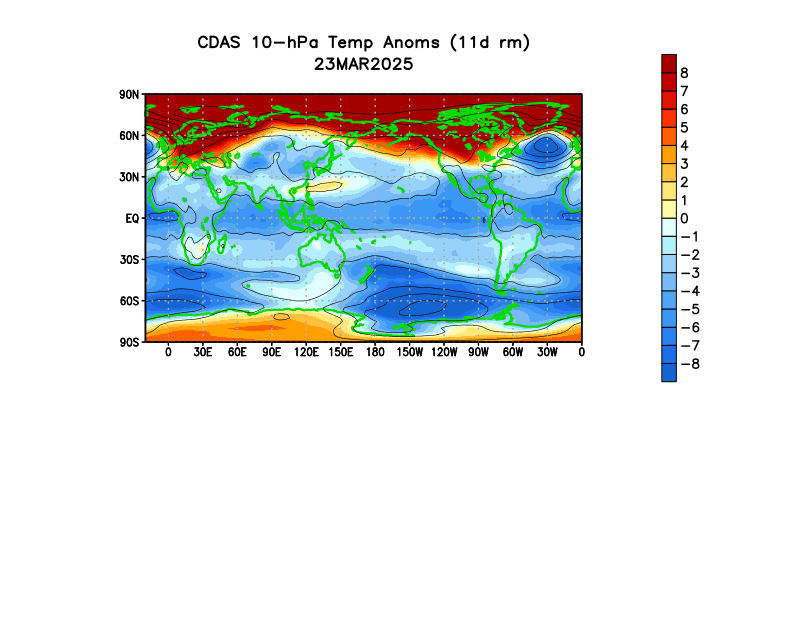 It's true ladies and gentlemen, our wintry weather is now coming to an end! The upper stratosphere is going through what is called the 'Final Warming', which is what the name implies- the last warming of the stratosphere before spring effectively begins.
During the winter months, large swaths of above normal temperatures in the Northern Hemisphere will push north and occasionally break into the Arctic and perform the sudden stratospheric warming. During a sudden stratospheric warming, this warm air overpowers the semi-permanent polar vortex in the Arctic Circle and weakens it. If the warming event is strong enough, the polar vortex may be broken up into pieces, pushed to lower latitudes or even be completely obliterated. If you followed this blog in the last winter season, you know what a complete collapse of the polar vortex implies- brutal, pure Arctic cold.
We've been in the spring season for a while now, but as you've experienced, we've been in a more wintry pattern than a spring pattern. A good reason for this could very well be that the stratosphere has not experienced its final warming until the last few days. Up until now, we've been seeing batches of anomalous warm air across the Northern Hemisphere, but they haven't been able to become forced into the Arctic. Now that we are experiencing the Final Warming scenario (which happens every late winter/early spring), I expect that we will be rid of persistent cold air shots in about 2 weeks time. You may see that as a long deadline, but remember that the animation shown above comes from 10 millibars- that's in the upper stratosphere. You can't push air from the stratosphere down to the troposphere in just a few days- the process of a stratospheric warming requires a couple of weeks to feel its full effects.
Andrew