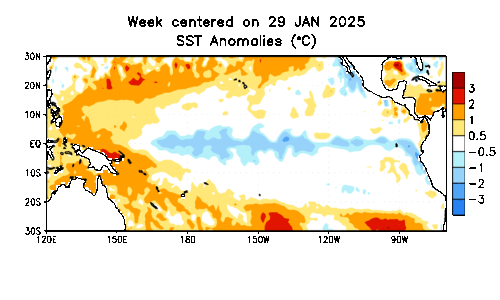 Animations of sea surface temperatures over the tropical Pacific show warm water anomalies recently shifting west, into regions that define the ENSO as 'central-based'.
A westward shift of El Nino waters began in mid-July, when the Nino was still east-based. However, the warm waters have begun a trend west, and this trend has resulted in warm water anomalies being centered between the 120 W and 180 lines in the Pacific. For the El Nino to be west-based, one would want the warmest anomalies to be west of the 180 line.
This has big implications for this winter. It is known that different strengths of different ENSO phases in different regions of the monitoring area all have different solutions. In this case, we have a moderate El Nino that began in the east-based region. In winter, if you live in the East US, you would want the El Nino to keep pressing west, as a west-based El Nino is better for snow and cold in the East.
A way to remember it is the quote "Go west, young man!". El Nino translates to 'young boy' in Spanish and fits into the classic quote.
Andrew