It's looking like early to mid December will be very cold, and quite possibly snowy across much of the nation.
Image created by Nicholas Schiraldi
The GFS Ensemble forecast for the AAM over the next couple of weeks reiterates the trend we have been seeing, with negative angular momentum anomalies keeping a tight grasp on the mid-latitudes in the days ahead. Positive AAM anomalies are projected to dissipate, but the aforementioned -AAM persistence in the mid-latitudes should keep at least a slightly wintry gun aimed at North America.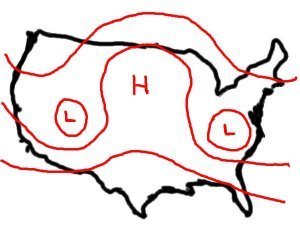 The Weather Prediction
This Omega Block in the Gulf of Alaska will really dominate the northern Pacific during its tenure in those waters. The ridge is expected to develop gradually until it finally bursts north and actually penetrates into the upper latitudes. With the presence of such a strong ridge, deep negative mid-level geopotential anomalies will develop in the Western US. This means that cold weather will be a prevailing feature for the West US into the Plains, as well as the Midwest, Great Lakes, Central and Southern Plains regions in conjunction with the teleconnection pattern, which we will discuss later.
Early and mid December is the prime target for some brutally cold weather, along with a side of snow potential. Just how cold and snowy it will get remains to be seen, but it's true: the potential is there.
Andrew